"

Now this world shall know pain.

"



 

— Six Paths of Pain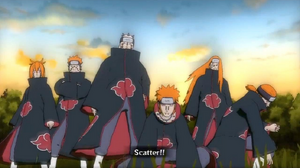 Six Paths of Pain
are a character in DK Network.
Equipment
Edit
Spike Piercing: A spike piercing can be ejected out of the Paths' arm to stab and slash opponents.
Speed
Super Strength
Super Jump
Stab
Kick
Punch
Grab and Throw
Choke
Knee
Slash
Almighty Push: A jutsu that uses the repulsive force to push the opponent back sending them flying. The jutsu deflects all other attacks.
Crab Summoning: For a short moment in time a giant crab can be summoned by the animal path to spray water.
Frog Summoning: For a short moment in time a giant frog appears and whips his tongue out knocking the opponent back.
Three Headed Dog Summoning: A three headed dog is summoned with wings who can split into three dogs and cut it's opponents with their claws and fangs.
Missile Launch: Asura Path is used to launch missiles and this can send the opponent flying back.
Ultimate Move
Edit
Know Pain
Ad blocker interference detected!
Wikia is a free-to-use site that makes money from advertising. We have a modified experience for viewers using ad blockers

Wikia is not accessible if you've made further modifications. Remove the custom ad blocker rule(s) and the page will load as expected.